Fishing Permit- Spring Lakes Park
Sun, Mon., Tue., Wed., Thu., Fri., Sat. Jan. 1-Dec. 31

, 12:00 AM
Spring Lakes Park: Spring Lakes Fishing Permit
2022 Birding Pin
Our most popular birding program is back for another year! Not only will registrants receive a beautiful lapel pin to showcase their Greene County Birding pride, but they will also gain access to four Birding Pin Exclusive birding excursions led by GCP&T Naturalist, Jared Merriman. Plus, more fun surprises are in store! All proceeds from birding pin registrations go towards habitat stewardship efforts in our parks!
Sun, Mon., Tue., Wed., Thu., Fri., Sat. Jan. 1-Dec. 31

, 8:00 AM-4:00 PM
Greene County Parks & Trails Headquarters
Wellness Walkers Spring & Summer 2022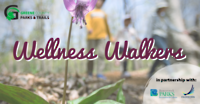 Each week, we will get our heart rate up and get moving while enjoying the outdoors in our beautiful parks. Walks are guided and self-paced. Greene County Parks & Trails, Fairborn Parks and Recreation and the City of Beavercreek Parks Department have teamed up to provide walks all over Greene County.
All walks are rated for difficulty with a 1 being the easiest and a 3 being the most difficult. Ratings consider terrain, elevation changes, etc.
Thu. Mar. 31-Sep. 15

, 9:30-10:30 AM
Greene County Parks & Trails Headquarters
Naturalist Camp
**** PROGRAM FILLED, WAITLIST ONLY ****
Calling all nature lovers! Join us for a week of creeking, hiking, and exploring the habitats of Narrows Reserve. You'll also get a chance to care for and handle many of our resident animals. The highlights of the week will be a field trip to the Columbus Zoo and Aquarium and a camping overnight at the park where we'll encounter awesome nocturnal animals!
Monday. June 27

, 9:00 am-2:30 pm
Narrows Reserve


Tuesday. June 28

, 9:00 am-2:30 pm
Narrows Reserve


Wednesday. June 29

, 9:00 am-2:30 pm
Narrows Reserve


Thursday. June 30

, 9:00 am-11:59 pm
Narrows Reserve


Friday. July 1

, 12:00 am-12:00 pm
Narrows Reserve
Animalympics
The greatest animal athletes will compete for the top prize in this exciting camp. Do you have what it takes to compete in games of skill, strength, and agility? Basketball, kickball and races will be some of the competitions campers will participate in as they explore amazing facts about what animals are capable of.
Mon., Tue., Wed., Thu., Fri. Jun. 27-Jul. 1

, 9:00 AM-2:30 PM
Fairgrounds Recreation Center
Morning Milers: Xenia Station
Enjoy the region's bike trails with an early morning ride led by a GCP&T Trail Sentinel. Bikers will begin at either Beavercreek Community Park or Xenia Station. These rides are not for the beginner skill level and may include a short, off-trail portion. Riders must be 18 and over and wear a helmet to participate. Meeting time at each location is 8:30am, with ride departure at 9am. Ride will be cancelled in the event of a thunderstorm.
This ride meets at Xenia Station.
Saturday, July 2

, 9:00-11:00 AM
Xenia Station
Sunrise Stroll
Do you love the beauty of the world around you as the sun rises? The colors in the sky? The sound of the birds up in the trees? Come and discover the sunrise with our staff on this early morning stroll.
Saturday, July 9

, 6:00-7:00 AM
Caesar Ford Park – Horse Parking Area
Night Ride: Xenia Station to Cedarville
Join the GCP&T Trail Sentinels for a 17 mile moonlight ride along the region's bike trails. GCP&T Trail Sentinels are an elite volunteer group who patrol the trails and coordinate several cycling events. All night riders must be 18 and older, wear a helmet and have lights on their bikes. Rides will be cancelled in the event of a thunderstorm.
Saturday, July 9

, 7:00-9:00 PM
Xenia Station
Summer Fest Concert Series - Heavy Metal & Southern Rock
Caesar Ford Park will be alive with music as we bring you the Caesar Ford Summer Fest Concert Series for 2022! Running June through September, each month we will be bringing you chart topping artists for an evening of live music and fun.
JULY - HEAVY METAL & SOUTHERN ROCK
All tickets will be sold through itickets.com, and sales information will be announced at a later date through our social media channels.
All ticket sales are non-refundable.
Saturday, July 9

, 7:00-10:00 PM
Caesar Ford Park
On The Double!
**** PROGRAM FILLED, WAITLIST ONLY ****
No job is too big, no dog (or camper) is too small...
Join us for a week with your favorite Paw Patrol characters as you all work together on missions to help protect nature and wildlife.
Are you up for the challenge?
Mon., Tue., Wed., Thu., Fri. Jul. 11-15

, 9:30-11:30 AM
Russ Nature Reserve