Fishing Permit- Spring Lakes Park
Sun, Mon., Tue., Wed., Thu., Fri., Sat. Jan. 4-Dec. 31

, 8:00 AM-10:00 PM
Spring Lakes Park: Spring Lakes Fishing Permit
2021 Greene County Birding Pin Program
We want to go birding with you! Our birding pins let you carry your local birding pride wherever you go! And you'll gain access to our Birding GCP&T Facebook community, a great place to meet new birding friends, ask questions, and view exclusive content from our naturalists!
All funds generated from pin registrations will go towards our habitat stewardship efforts.

Sun, Mon., Tue., Wed., Thu., Fri., Sat. Feb. 1-Dec. 31

, 8:00 AM-4:00 PM
Greene County Parks & Trails Headquarters
Wellness Walkers Spring & Summer 2021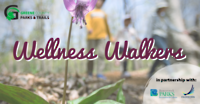 Each week, we will get our heart rate up and get moving while enjoying the outdoors in our beautiful parks. Walks are guided and self-paced. Greene County Parks & Trails, Fairborn Parks and Recreation and the City of Beavercreek Parks Department have teamed up to provide walks all over Greene County.
All walks are rated for difficulty with a 1 being the easiest and a 3 being the most difficult. Ratings consider terrain, elevation changes, etc.
Thu. Apr. 1-Nov. 25

, 9:30-10:30 AM
Greene County Parks & Trails Headquarters
Pumpkin Glow
The trails of Caesar Ford Park will be glowing as you wander your way looking at hand painted, custom pumpkins, all done with black light reflective paint.
As you arrive for the Pumpkin Glow, you will be given a black light flashlight, or you can bring your own. You will set out on a mile long hike with hundreds of pumpkins just waiting to be discovered. What will you find? Scooby? Country music icons? Birds? Probably so...and a whole lot more as well. Just keep your eyes open as you won't be able to see them in the dark.
This program will run for 4 nights.
This is a free program to attend, donations appreciated.
Wed., Thu., Fri., Sat. Oct. 27-30

, 6:00-9:00 PM
Caesar Ford Park
EverWalk -Costume Parade
EverWalk is a movement designed to build a nation of walkers and get people off their phones, out in nature and living healthier lifestyles. It was created by Diana Nyad, the first person in history to swim the 111 miles from Cuba to Florida and her Cuba swim expedition leader Bonnie Stoll. These walks are popular all over the United States and abroad. We will be hosting them in Greene County in April, June, July, August and October in a different park each time. Feel free to bring your well-mannered dogs on non-retractable leashes. THE WALK IN AUGUST WILL BE HALF ON THE TRAIL AND FOR THE OTHER HALF, COOL OFF BY WALKING THROUGH THE CREEK. PARTICIPANTS WILL BE ABLE TO CHOOSE WHICH WAY THEY WANT TO GO BACK. SHOES MUST BE WORN WHILE IN THE CREEK. THE WALK IN OCTOBER WILL BE A COSTUME PARADE.
Saturday, October 30

, 9:00-11:00 AM
Xenia Station
DIY Craft - Christmas Countdown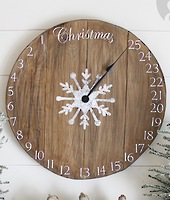 Our DIY program is back again for November and we are doing CHRISTMAS!
This month's program will be a Christmas Countdown Clock. Registrants will receive all supplies needed to complete this project.
Each person registered will receive one kit. Project may vary slightly from the photo.
A snack will be provided, you are welcome to bring food as well.
Tuesday, November 2

, 6:00-9:00 PM
Greene County Parks & Trails Headquarters – Garage
Natural Holiday Decorations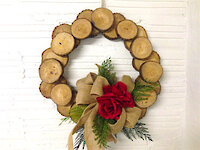 Our natural holiday decoration program was a huge hit in 2020, we have decided to do it all over again with a new craft!
That's right, this year it is a natural wood cookie wreath. Each registrant will receive most of the supplies needed to create a beautiful holiday wreath. Some final touches will be supplied, you are more than welcome to add your own to compliment your decorating style.
This is a take home program for adults 18 and up. Registration is required, 1 per registered adult. Kits will be ready for pickup on November 8th.
This is a free program.
Monday, November 8

, 8:00 AM-4:00 PM
Greene County Parks & Trails Headquarters
Curious Birder Talk - Bird Food
Have you ever wondered how or why birds do the amazing things they do? That makes you a curious birder! You belong with us! Join GCP&T Naturalist Jared Merriman for a fun and hands on deep dive into how birds get their food.
Free coffee, tea, and hot cocoa will be available.
This is a free program, but space is limited. Registration required.
Tuesday, November 16

, 6:30-8:00 PM
Greene County Parks & Trails Headquarters
Wiggle Worms - Zookeeper for the Day
Have you ever visited the zoo and wondered what life could be like as a zookeeper? What do the animals eat? Do they get regular veterinary care? Well join our staff as you become a zookeeper for the day in this station based, animal program.
Our Wiggle Worms will be creating their own zoo animal (similar to Build-A-Bear), taking it to the vet for proper medical attention, bathing and dressing the animal, visiting with our own animal ambassadors, making a wild animal food chain for their home as well as having a snack before taking their animal home to care for.
This month's program will be held at the Greene County Parks & Trails Headquarters. Registrations are requested as supplies are limited. No walk-in's will be accepted for this program.
There is a limit of 1 animal per Wiggle Worm, ages 2-5 only.
***Due to the popularity of this event, please only register if you are certain that you can attend. If you are unable to attend after your register, please notify us in enough time to fill the spot from the waiting list***
Thursday, November 18

, 10:00 AM-12:00 PM
Greene County Parks & Trails Headquarters
Greene Grasshoppers - Down on the Farm
What do you think life would be like...down on the farm? Join our staff and become a farmer for the day at this unique Greene Grasshoppers program. Come care for pigs, cows, sheep, and horses- the stuffed kind! You'll make your own stuffed animal (similar to Build-a-Bear) and spend the evening cleaning and caring for it and learning about their life, down on the farm. You'll even have a chance to meet some real farm animals, too!
This is a registration only program due to supplies. No walk-in's will be accepted.
If you register and are unable to attend, please contact us as early as possible so we can guarantee all spots are filled.

Thursday, November 18

, 6:00-8:00 PM
Greene County Parks & Trails Headquarters