Fishing Permit- Spring Lakes Park
Sun, Mon., Tue., Wed., Thu., Fri., Sat. Jan. 1-Dec. 31

, 8:00 AM-4:30 PM
Spring Lakes Park: Spring Lakes Fishing Permit
2023 Birding Passport
Join our flock by attending multiple birding programs and earn rewards! Each free hike you attend is worth one point, each paid excursion or workshop you attend is worth three points. When you reach the point milestones of 10, 15, and 20, you receive a reward! Those who earn 10 points receive a 2023 Backyard Birding Pin, 15 point earners receive a tumbler featuring this years pin art, and 20 point earners receive a sweatshirt featuring the pin art. Points are awarded at each program, only those in attendance will receive points.
Sun, Mon., Tue., Wed., Thu., Fri., Sat. Jan. 9-Dec. 31

, 8:00 AM-4:00 PM
Greene County Parks & Trails Headquarters
Wellness Walkers Spring & Summer 2023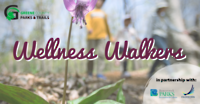 Each week, we will get our heart rate up and get moving while enjoying the outdoors in our beautiful parks. Walks are guided and self-paced. Greene County Parks & Trails, Fairborn Parks and Recreation and the City of Beavercreek Parks Department have teamed up to provide walks all over Greene County.
All walks are rated for difficulty with a 1 being the easiest and a 3 being the most difficult. Ratings consider terrain, elevation changes, etc.
Thu. Mar. 23-Sep. 14

, 9:30-10:30 AM
Greene County Parks & Trails
World of Imagination ~ Imagine That
The world around you can be anything you would like for it to be...if you just use your imagination!
Monthly, we will be hosting story time at the Russ Nature Reserve followed by imaginative play in the Lovely Nature Playscape. So, bring along a blanket or some chairs, a snack or two and of course, your imagination.
Kids are encouraged to come dressed in costumes of any type or creative clothing. This program will be cancelled for rain/thunderstorms.
Wednesday, May 31

, 10:00-11:00 AM
Russ Nature Reserve
Birds & Reptiles - Oh, My!
When is the last time that you saw or were in close contact with a bird, a turtle, or a snake?
Come join GCP&T Naturalist(s) at the Fairgrounds Rec. Center, where you will see some of those beautiful creatures onsite. You will see their beauty and learn about their habitats, their eating habits, and their ability to survive in an ever-changing ecosystem.
You will leave with a better understanding of our most precious birds and reptiles and how important they are in helping to maintain our ecosystem and survival!
This is a free program in the Park! See you there.
Picnic tables are available, you are welcome to bring a comfortable chair.
Wednesday, May 31

, 1:30-2:30 PM
Fairgrounds Recreation Center: Fairgrounds Recreation Center Large Shelter
Fishing at Spring Lakes Park - Seniors
Fishing is one of the most relaxing ways to enjoy the great outdoors at one of our Greene County Parks!
Please get out your fishing pole and come on down to the good fishin' at Spring Lakes Park in Bellbrook. There will be seniors/adults sharing fishing stories and time together while enjoying the calm and serene atmosphere at Spring Lakes Park.
There will be "surprise prizes" awarded for the various fish caught. You have to show up and fish to find out what those prizes are....! Free bait while supplies last.
Let's go fishin'!!! See you at Spring Lakes...
You are welcome to bring a comfortable chair. Snacks encouraged. For more information call (937)562-6440.
Thursday, June 1

, 1:30-3:30 PM
Spring Lakes Park: Spring Lakes Park Med Shelter
Anything on Wheels
Bikes, scooters, pedal cars and more! If it has wheels, and can be ridden by a child, then bring it out to the Fairgrounds Recreation Center for some fun!
Anything on Wheels is designed to get kids out and about, playing with others, while having some fun.
Children must bring their riding toys, none will be available for loan.
Parents are required to remain with their children during this program.
Friday, June 2

, 10:00 AM-12:00 PM
Fairgrounds Recreation Center: Main Parking Lot
Romantic Movie Night
Let us help you change up the monotony of date night by offering this romantic movie night, under the stars.
Registered guests (REGISTER ONLY ONE PERSON PER COUPLE) will get their own table for two where they will receive appetizers and a dessert, as well as drinks, to enjoy during the movie.
The movie playing will be The Notebook.
Friday, June 2

, 9:00-11:00 PM
Russ Nature Reserve
Morning Milers - Beavercreek Community Park
Enjoy the region's bike trails with an early morning ride led by a GCP&T Trail Sentinel. Bikers will begin at either Beavercreek Community Park or Xenia Station. These rides are not for the beginner skill level and may include a short, off-trail portion. Riders must be 18 and over and wear a helmet to participate. Meeting time at each location is 8:30am, with ride departure at 9am. Ride will be cancelled in the event of a thunderstorm.
This ride meets at Beavercreek Community Park.
Saturday, June 3

, 9:00-11:00 AM
Off-Site – Beavercreek Community Park
Critter Camp
Come explore the wonderful animals that call our parks home! We will spend the week searching for wild critters in all sorts of habitats, exploring creative ways to tell about animal lives, and learning to care for and handle some of the GCP&T program animals.
This program will include a field trip, details to follow.
Monday. June 5

, 9:00 am-2:30 pm
Spring Lakes Park


Tuesday. June 6

, 9:00 am-2:30 pm
Spring Lakes Park


Wednesday. June 7

, 9:00 am-2:30 pm
Spring Lakes Park


Thursday. June 8

, 9:00 am-2:30 pm
Spring Lakes Park


Friday. June 9

, 9:00 am-4:00 pm
Spring Lakes Park