Fishing Permit- Spring Lakes Park
Sun, Mon., Tue., Wed., Thu., Fri., Sat. Jan. 1-Dec. 31

, 12:00 AM
Spring Lakes Park: Spring Lakes Fishing Permit
2022 Birding Pin
Our most popular birding program is back for another year! Not only will registrants receive a beautiful lapel pin to showcase their Greene County Birding pride, but they will also gain access to four Birding Pin Exclusive birding excursions led by GCP&T Naturalist, Jared Merriman. Plus, more fun surprises are in store! All proceeds from birding pin registrations go towards habitat stewardship efforts in our parks!
Sun, Mon., Tue., Wed., Thu., Fri., Sat. Jan. 1-Dec. 31

, 8:00 AM-4:00 PM
Greene County Parks & Trails Headquarters
Wellness Walkers Spring & Summer 2022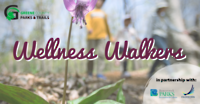 Each week, we will get our heart rate up and get moving while enjoying the outdoors in our beautiful parks. Walks are guided and self-paced. Greene County Parks & Trails, Fairborn Parks and Recreation and the City of Beavercreek Parks Department have teamed up to provide walks all over Greene County.
All walks are rated for difficulty with a 1 being the easiest and a 3 being the most difficult. Ratings consider terrain, elevation changes, etc.
Thu. Mar. 31-Sep. 15

, 9:30-10:30 AM
Greene County Parks & Trails Headquarters
EverWalk
EverWalk is a movement designed to build a nation of walkers and get people off their phones, out in nature and living healthier lifestyles. It was created by Diana Nyad, the first person in history to swim the 111 miles from Cuba to Florida, and her Cuba swim expedition leader, Bonnie Stoll. These walks are popular all over the United States and abroad. We will be hosting them in Greene County again in 2022.
This is a free program, registration is not required. All well-mannered dogs are encouraged as long as they are on leash.
Saturday, June 25

, 9:00-11:00 AM
Russ Nature Reserve
Classic Car Show & Drive-In...KID STYLE
We are taking our littlest back in time...and when we say back, we mean to the 1980's for a pint-sized drive-in AND car show at Caesar Ford Park. Does your child own a Power Wheels? How about a pedal car? Any other unique riding toy? Bring them out for this one-of-a-kind car show event for kids only.
The feature movie of the afternoon is Paw Patrol The Movie! When their biggest rival, Humdinger, starts wreaking havoc as the mayor of Adventure City, Ryder and everyone's favorite heroic pups kick into high gear to face the challenge. Armed with exciting new gadgets and gear, the PAW Patrol joins forces with a savvy dachshund to save the citizens of Adventure City.
The cars will be judged by our guest panel...but don't worry, everyone will be a winner in our eyes.
So tease up the hair, get out the fluorescent clothing, put on the leg warmers and join us for a Classic Fun Day...
Saturday, June 25

, 1:00-4:00 PM
Caesar Ford Park
Backyard Cruise-in
Whether you are a classic car owner or a classic car enthusiast, this event is for YOU!
Join the Greene County Parks & Trails Ranger Division for a summer cruise-in, right in your backyard.
Bring out the classic cars, trucks and bikes and all the family for an evening of fun as we fill Caesar Ford Park with oldies music, laughter, food, friendship and more.
It is FREE to register, each registration will be eligible for great door prizes. In the event of inclement weather, the event will be cancelled.
Saturday, June 25

, 5:30-8:30 PM
Caesar Ford Park
Night Ride: Xenia Station to Spring Valley
Join the GCP&T Trail Sentinels for a moonlight ride along the region's bike trails. GCP&T Trail Sentinels are an elite volunteer group who patrol the trails and coordinate several cycling events. All night riders must be 18 and older, wear a helmet and have lights on their bikes. Rides will be cancelled in the event of a thunderstorm.
Saturday, June 25

, 7:00-9:00 PM
Xenia Station
Summer Birding Hike
Join GCP&T Naturalist, Jared Merriman, as you walk along the boardwalk though the wetlands and through the woods in search for breeding birds. This hike is excellent for everyone from beginner to advanced.
Binoculars required; limited supply to loan.
Saturday, June 25

, 7:00-9:00 PM
Pearl's Fen
Movie Under the Stars
The fun starts when the sun goes down! Join Greene County Parks & Trails for a FREE family movie in the park under the stars. The park opens at 8:30pm with the movie starting around 9:15pm. Bring along a blanket or some chairs and enjoy. This movie will not be offered as a drive-in.
In the event of inclement weather, the movie will be rescheduled.
Saturday, June 25

, 9:00-11:00 PM
Caesar Ford Park
Naturalist Camp
**** PROGRAM FILLED, WAITLIST ONLY ****
Calling all nature lovers! Join us for a week of creeking, hiking, and exploring the habitats of Narrows Reserve. You'll also get a chance to care for and handle many of our resident animals. The highlights of the week will be a field trip to the Columbus Zoo and Aquarium and a camping overnight at the park where we'll encounter awesome nocturnal animals!
Monday. June 27

, 9:00 am-2:30 pm
Narrows Reserve


Tuesday. June 28

, 9:00 am-2:30 pm
Narrows Reserve


Wednesday. June 29

, 9:00 am-2:30 pm
Narrows Reserve


Thursday. June 30

, 9:00 am-11:59 pm
Narrows Reserve


Friday. July 1

, 12:00 am-12:00 pm
Narrows Reserve