Goat Yoga with Goat Country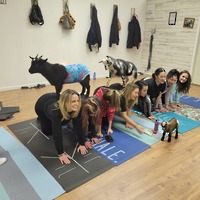 Goat Yoga is not a traditional yoga experience, but it is certainly one that will put you in a good mood.
It is hard not to giggle when a cute baby goat decides that he wants your attention. It's a distraction, but it's a happy distraction that cannot be ignored!
We will be hosting 8 classes in which you can experience the fun of goats! You must register for each class in which you wish to participate.
Yoga mats, proper attire and water are expected. Classes will be cancelled for inclement weather, there are no refunds or household credits for no-show's.
Wednesday, July 13

, 6:30-7:30 PM
Russ Nature Reserve
Family Night Out - Fishin n Creekin
Toss out a line in the lake or dip your toes in the creek! The whole family can enjoy a free night of fishing and exploring the creek for all sorts of critters. Free bait will be available while supplies last.
Thursday, July 14

, 6:00-8:00 PM
Spring Lakes Park
Bird Walk at the Mound
Birders, or aspiring birders, are encouraged to join GCP&T Naturalist, Jared Merriman, in search of the different bird species that call the Indian Mound Reserve home, or that migrate to this area during the year.
What will we find? Join us to find out...
It is ok if you don't have binoculars to participate, we will have limited sets to loan out.
Saturday, July 16

, 8:00-10:00 AM
Indian Mound Reserve: Indian Mound Reserve Williamson Mound lot
Morning Milers: Beavercreek Community Park
Enjoy the region's bike trails with an early morning ride led by a GCP&T Trail Sentinel. Bikers will begin at either Beavercreek Community Park or Xenia Station. These rides are not for the beginner skill level and may include a short, off-trail portion. Riders must be 18 and over and wear a helmet to participate. Meeting time at each location is 8:30am, with ride departure at 9am. Ride will be cancelled in the event of a thunderstorm.
This ride meets at Beavercreek Community Park.
Saturday, July 16

, 9:00-11:00 AM
Off-Site – Beavercreek Community Park
Woodland Mysteries
**** PROGRAM FILLED, WAITLIST ONLY ****
Use your detective skills and scientific experiments to solve mysteries in the woods. Look for clues, solve puzzles and crack the case of the Stolen Walnuts, the Mystery of Midnight Munchers and other nature "whodunits."
Mon., Tue., Wed., Thu., Fri. Jul. 18-22

, 9:00 AM-2:30 PM
Russ Nature Reserve
Greene Grasshoppers - Foam Party!
It's a giant pile of foam! Run, play, and cover yourself in suds, then slide your bubbly self down our giant slip-n-slide!
This is a drop-in program, you do not need to stay for the full 2 hours. An adult is required to stay during the program.
This program covers kindergartners through 9 years of age.
Tuesday, July 19

, 6:00-8:00 PM
Fairgrounds Recreation Center
Wiggle Worms - Bubble Play
Bubbles, bubbles, EVERYWHERE! Could there be anything more fun than playing in a huge pile of bubbles? We don't think so.
Join our staff as we fire up our new bubble machine with a bubble pile SKY HIGH for your wiggle worms to explore. Come for the hour, stay for half, as you create your own play with this Wiggle Worms program.
Thursday, July 21

, 10:00 AM-12:00 PM
Fairgrounds Recreation Center
Night Owlz! Bubble Dance Party
Giant mound of bubble foam? CHECK!
Huge slip-n-slide? CHECK!
Good music? CHECK!
Tasty snacks? CHECK!
Looks like the only things we are missing for a great time are you and your friends!
This is a drop off program, but parents are welcome to stay.
This program is free, but registration is required.
Friday, July 22

, 5:00-7:00 PM
Russ Nature Reserve
GTO: Bubble Dance Party
Turn it up! Get your squad together for an epic dance party that will feature a live DJ, bubble foam, and a 100 ft slip and slide! Free snacks and soda available while supplies last.
This is free event, but registration is required.
Friday, July 22

, 8:00-10:00 PM
Russ Nature Reserve
Caesar Ford Ranger Classic
Join our Ranger Team at the Caesar Ford Ranger Classic for a day-long event with endless fun. The fun includes a FREE car show, movie, food, fireworks and more! You don't have to own a classic car to be part of this fun! Come on out and view the cars and enjoy the other festivities occurring that day.
Schedule:
Car Show Registration - 4-6 pm
Car Show Judging 6-7:30 pm
Awards - 8 pm
Drive In Movie - 9pm
Fireworks - Approximately 10:50 pm
Saturday, July 23

, 1:00-11:00 PM
Caesar Ford Park