Fishing Permit- Spring Lakes Park
Sun, Mon., Tue., Wed., Thu., Fri., Sat. Jan. 4-Dec. 31

, 8:00 AM-10:00 PM
Spring Lakes Park: Spring Lakes Fishing Permit
2021 Greene County Birding Pin Program
We want to go birding with you! Our birding pins let you carry your local birding pride wherever you go! And you'll gain access to our Birding GCP&T Facebook community, a great place to meet new birding friends, ask questions, and view exclusive content from our naturalists!
All funds generated from pin registrations will go towards our habitat stewardship efforts.

Sun, Mon., Tue., Wed., Thu., Fri., Sat. Feb. 1-Dec. 31

, 8:00 AM-4:00 PM
Greene County Parks & Trails Headquarters
Wellness Walkers Spring & Summer 2021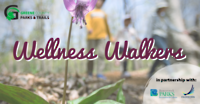 Each week, we will get our heart rate up and get moving while enjoying the outdoors in our beautiful parks. Walks are guided and self-paced. Greene County Parks & Trails, Fairborn Parks and Recreation and the City of Beavercreek Parks Department have teamed up to provide walks all over Greene County.
All walks are rated for difficulty with a 1 being the easiest and a 3 being the most difficult. Ratings consider terrain, elevation changes, etc.
Thu. Apr. 1-Nov. 25

, 9:30-10:30 AM
Greene County Parks & Trails Headquarters
Night of Romance
You asked...we listened. We are back with another date night event.
Join us for a Romantic Night Out at Caesar Ford Park where staff helps to take the guess work out of date night.
Upon arrival, you will find a setting fit for romance with tables for two and just the right amount of lighting and music for a romantic dinner.
Your night will start with an appetizer along with a bottle of the house "sparkling" cider or juice.
Following you will get a delicious salad with a main dinner buffet and a special dessert surprise, just for two.
After dinner, join your partner on the dance floor for an evening to remember and/or take a romantic hike through the woods. The evening is yours...
When the sun officially goes down, enjoy our Movie Under the Stars for the perfect ending to a perfect date.
The program is $60 for 2 people. Please only enter one person during the registration process.
If the event of rain, the event will be postponed until August 21st (no movie).
As much as we would like, we are unable to provide a meal to cater to all dietary restrictions. This event will serve a vegetarian option only with the main course.
Saturday, August 7

, 6:00-9:00 PM
Caesar Ford Park
Night Ride: Xenia Station to Fifth-Third Gateway Park
Join the GCP&T Trail Sentinels for a 20 mile moonlight ride along the region's bike trails. GCP&T Trail Sentinels are an elite volunteer group who patrol the trails and coordinate several cycling events. All night riders must be 18 and older, wear a helmet and have lights on their bikes. Rides will be cancelled in the event of a thunderstorm.
Saturday, August 7

, 7:00-9:00 PM
Xenia Station
Movie Under the Stars
The fun starts when the sun goes down! Join Greene County Parks & Trails for a FREE family movie in the park, under the stars. The park opens at 8:30 pm with the movie starting around 9:10 pm.
Bring along a blanket or some chairs and enjoy an evening with family and friends. In the event of inclement weather, the movie will be rescheduled.
Restrooms will be available, no concessions sold. Food and drinks (no alcohol) permitted.
Stay tuned for additional details on the movie...
Saturday, August 7

, 8:30-11:30 PM
Caesar Ford Park
Grownups and Me Backpack Camp
Let's get our littlest supporters active and involved, we are offering a "Backpack Camp" for registered 2-3 year olds.
A back pack will be stuffed with daily projects for the kids to do...each day including an experiment or educational project, a craft, snack and coloring page. We will provide all the instructions and the supplies needed for almost everything.
Once registered, participants will receive an email when their backpack is ready for pick up.
Please only register the child, no adults.
Monday, August 9

, 8:00 AM-4:00 PM
Greene County Parks & Trails Headquarters
Mindful Mondays with Speakeasy Yoga
Let's give Mondays a new reputation with Mindful Monday's with Speakeasy Yoga!
Grab your friends & your mats and head out to Fairground Recreation Center in Xenia every 2nd and 4th Monday from 6-7pm during the summer season!
Even if you have never done a yoga move before or if you're a yogi expert, Speakeasy instructors make the sessions all inclusive and easy to follow!
Each class is FREE and open to the public!
Stretch out those Monday blues and get the week going in a more mindful way when you join GCPT & Speakeasy Yoga for Mindful Mondays yoga at the park!
*Registration will include a full list of dates*
Registration is requested but not required
Monday, August 9

, 6:00-7:00 PM
Fairgrounds Recreation Center: Basketball Court
Spoil Your Pup Day
Your pup spoils you everyday with attention, why not spoil your pup with a day at the dog park? This isn't like any other day though, you will be coming to create a masterpiece on canvas.
Your dog will be painting with the help of some peanut butter, a canvas, paint and a plastic bag. And if everything goes as planned, you will have a masterpiece suitable for display!
While your painting dries, enjoy the large dog paddock and let your puppies run and play.
This is a free program but registration is required due to limited parking. Please note that you do not have to arrive at 6 p.m., there will be enough supplies for those that register. ***PLEASE REGISTER YOUR DOG, not the human***
Tuesday, August 10

, 6:00-9:00 PM
Pierce Park: Scout Dog Park – Small Dog Paddock
Curious Birder Talk - Bird Words
Have you ever wondered how or why birds do the amazing things they do? That makes you a curious birder! You belong with us! Join GCP&T Naturalist Jared Merriman for a fun and hands on deep dive into how and why birds communicate.
Free coffee, tea, and hot cocoa will be available.
This is a free program, but space is limited. Registration required.
Tuesday, August 10

, 6:30-8:00 PM
Caesar Ford Park