Fishing Permit- Spring Lakes Park
Sun, Mon., Tue., Wed., Thu., Fri., Sat. Jan. 1-Dec. 31

, 8:00 AM-4:30 PM
Spring Lakes Park: Spring Lakes Fishing Permit
2023 Birding Passport
Join our flock by attending multiple birding programs and earn rewards! Each free hike you attend is worth one point, each paid excursion or workshop you attend is worth three points. When you reach the point milestones of 10, 15, and 20, you receive a reward! Those who earn 10 points receive a 2023 Backyard Birding Pin, 15 point earners receive a tumbler featuring this years pin art, and 20 point earners receive a sweatshirt featuring the pin art. Points are awarded at each program, only those in attendance will receive points.
Sun, Mon., Tue., Wed., Thu., Fri., Sat. Jan. 9-Dec. 31

, 8:00 AM-4:00 PM
Greene County Parks & Trails Headquarters
Wellness Walkers Fall & Winter Series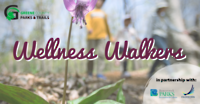 Each week, we will get our heart rate up and get moving while enjoying the outdoors in our beautiful parks. Walks are guided and self-paced. Greene County Parks & Trails, Fairborn Parks and Recreation and the City of Beavercreek Parks Department have teamed up to provide walks all over Greene County.
All walks are rated for difficulty with a 1 being the easiest and a 3 being the most difficult. Ratings consider terrain, elevation changes, etc.
Thu. Sep. 28-Dec. 21

, 9:30-10:30 AM
Greene County Parks & Trails
Santa's Workshop
***PROGRAM FILLED, WAITLIST ONLY***
The holiday season can be a busy time, Santa needs all the help he can get making gifts for the special people in our lives.
Children, ages 2-10, are invited to attend Santa's Workshop and make gifts for mom, dad, grandma, grandpa and more.
All supplies will be provided, this is a registration event only. No walk-ins can be accepted.
Due to larger than normal no-show's for this program, please do not register unless you can commit to attending.
Saturday, December 9

, 10:00 AM-1:00 PM
Greene County Parks & Trails Headquarters
Santa Paws is Coming to Town
It's Santa Paws!!!
Well, maybe it is another painting with your dog program, this time it is a Christmas ornament for your tree!
Your dog will be painting with the help of some peanut butter, a wood ornament, paint and a plastic bag. And if everything goes as planned, you will have a masterpiece suitable for display on your tree!
This is a free program but registration is required. Please note that you do not have to arrive at 2 p.m., there will be enough supplies for those that register. ***PLEASE REGISTER YOUR DOG, not the human***
Saturday, December 9

, 2:00-4:00 PM
Greene County Parks & Trails Headquarters
DIY Craft - Farmhouse Decor
We are back at it for our very popular DIY craft programs for 2023.
Do you want to know what we are going to be crafting? Well we will keep you in suspense and release the programs each month on Facebook. This month's topic will be released on November 15th at 11 a.m. At that time, registration will open.
Light refreshments will be served. This is an in-person program only, supplies will not be be sent home for those that do not attend.
A variety of supplies will be provided to complete the promoted crafts. You are welcome to bring along your own items if you would like.
Happy Crafting...
Tuesday, December 12

, 6:00-9:00 PM
Greene County Parks & Trails Headquarters
Bird Walk at the Mound
Birders, or aspiring birders, are encouraged to join GCP&T Naturalist, Jared Merriman, in search of the different bird species that call the Indian Mound Reserve home, or that migrate to this area during the year.
What will we find? Join us to find out...
It is ok if you don't have binoculars to participate, we will have limited sets to loan out.
Saturday, December 16

, 8:00-10:00 AM
Indian Mound Reserve: Indian Mound Reserve Williamson Mound lot
Winter Solstice Hike
Follow the soft glow of luminaries in the snow...
Enjoy the calmness of the woods in winter on the Winter Solstice, the longest night of the year. Hot chocolate and holiday treats available for those participating in the hike (while supplies last).
This is a self-guided hike along a luminary lit trail.
Thursday, December 21

, 7:00-9:00 PM
Russ Nature Reserve
Intermediate Beekeeping Class
Need a little more beekeeping instruction? We will answer some of the questions or concerns you have experienced, provide additional information for healthier and more productive hives, as well as discuss harvesting honey. Participants must have completed beginning beekeeping or have experience with managing hives.
This program is a partnership between our agency and the Greene County Beekeepers Association.
Tue., Thu. Jan. 16-18

, 6:00-9:00 PM
Greene County Parks & Trails Headquarters
John Finlay Education Center
Rent-A-Sugar Bucket
***PROGRAM FILLED, waitlist only***
Create family memories during this winter adventure! Maple sugaring excitement begins by hearing the "drip, drip, drip" as the first droplets of sap go into your bucket. Bring your whole family to learn all about the history of maple sugaring. Along the way you will find out how to identify sugar maple trees in winter, take turns drilling a hole and tapping a spile, then your family will have a special bucket that can be checked throughout the season.
Once a bucket is purchased, you will be contacted to schedule your tour. Tours will take place January 20th-30th between the hours of 9:30 a.m. & 3:00 p.m.
Each bucket will come with a 16 oz jar of locally made maple syrup and four pieces of maple candy.
Please only register ONE member of your group for the program, each group will receive one bucket.
Sun, Mon., Tue., Wed., Thu., Fri., Sat. Jan. 20-30

, 9:30 AM-3:00 PM
Narrows Reserve: Narrows Reserve Sperling Lane