Program Search
Morning Milers - Beavercreek Station
Enjoy the region's bike trails with an early morning ride led by a GCP&T Trail Sentinel. Beginning at Beavercreek Station, this 32 mile ride will take you to the Village of Cedarville and back to Beavercreek Station when finished. This ride is for the beginner skill level. Riders must be 18 and over and wear a helmet to participate. Ride will be cancelled in the event of a thunderstorm.
Saturday, April 28

, 9:00-11:00 AM
Beavercreek Station
Native Plant Sale
The plant sale will be Saturday, April 28, from 10am-12:30pm at James Ranch Park. Plants are available for pre-sale AND/OR purchase on the day of the Plant Sale. Pre-sale is the only way to guarantee that you will receive the quantity and variety of plants that you want. Pre-sale orders must be completed by April 6. If you canít decide what to order, then visit us during the plant sale to see what is available! Pre-Sale Plants must be picked up during the Plant Sale on Saturday, April 28, between 10am and 12:30pm.
Saturday, April 28

, 10:00 AM-12:30 PM
James Ranch Park
Spring Birding Excursion
Some of Ohio's most elusive migrants call the ridges and hills of Tar Hollow State Park home. Join us on a quest to find Scarlet tanagers, Cerulean Warblers, Worm-eating Warblers and many other bird species. Naturalist and birders Cris Barnett and Jared Merriman will be leading this trip. Please bring along binoculars and a packed dinner. Pre-registration is required, minimum must be meet by April 20th.
Saturday, April 28

, 2:30-10:00 PM
Narrows Reserve: Narrows Reserve Nature Center
Full Moon Night Hike - Pink Moon
Explore nature at night - learn more about the moon, nocturnal wildlife and experience the sounds of the night. Night hikes are held unless we have thunder and lightning. April - Pink Moon
Sunday, April 29

, 7:30-9:00 PM
Indian Mound Reserve: Indian Mound Reserve Williamson Mound lot
Volunteer Training - Field Trip
All current volunteers are welcome to join us for this spring wildflower foray. We will be heading into the hills of Appalachia to Highland Nature Sanctuary. One of the most spectacular places in the state for spring wildflowers. The rock outcroppings and soils make habitats different from what we see in Greene County. Bring along a snack. We will be stopping for a late lunch on our return trip.
Monday, April 30

, 8:30 AM-4:00 PM
Narrows Reserve: Narrows Reserve Nature Center
Selfie Scavenger Hunt - Indian Mound Reserve
Do you like a challenge? Like to solve mysteries or puzzles? Each month we will send you on a different scavenger hunt at a different location. A group of photos will be available on the Greene County Parks & Trails Facebook site or by calling the park office at 937-562-6474. Locate each place or item depicted in the photos and take a selfie at each spot. Once you have located everything, post the photos to your own Facebook site and tag Greene County Parks & Trails or you can send them to us at
kperez@co.greene.oh.us
. Prizes are awarded for finding all of the locations. Prizes can be picked up at the Greene County Parks & Trails office at 575 Ledbetter Rd., Xenia, Monday through Friday, 7:30 am Ė 4 pm.
Sun, Mon., Tue., Wed., Thu., Fri., Sat. May 1-31

, 8:00 AM-8:00 PM
Indian Mound Reserve
Wellness Walkers-Phillips Park
Each week we will get our heart rate up and get moving - enjoying the outdoors in our beautiful parks. Walks are guided and self-paced. Greene County Parks & Trails and City of Beavercreek have partnered to provide more walk locations in 2018! Contact City of Beavercreek to register, 937-427-5514. Advanced registration required. Meet at Phillips Park, 2092 Dayton-Xena Rd., Beavercreek.
Thursday, May 3

, 9:30-10:30 AM
Phillips Park
Spring Bird Count
Catch a glimpse of some familiar species and try your luck at some of the more unusual birds such as Cerulean Warblers and American Bittern. So grab your binoculars and join the naturalists on this spring bird challenge. Last year staff spotted 89 species. Participants are welcome to join us any time throughout the day. Call the naturalist for their exact location, 937-681-6030. If you can not join us, follow us on facebook throughout the day.
Friday, May 4

, 7:00 AM-7:00 PM
Narrows Reserve: Narrows Reserve Nature Center
Gardening for Butterflies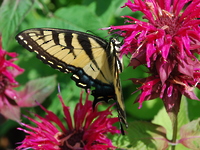 Add a few simple plants like dill and fennel to your garden. Your garden is now host to additional swallowtail butterflies. Learn what common plants, water sources and shade will best attract butterflies to your landscape.
Saturday, May 5

, 10:00-11:30 AM
Russ Nature Reserve
Night Ride: Xenia Station to Fifth-Third Gateway Park
Join the GCP&T Trail Sentinels for a moonlight ride along the region's bike trails. GCP&T Trail Sentinels are an elite volunteer group who patrol the trails and coordinate several cycling events. All night riders must be 18 and older, wear a helmet and have lights on their bikes. Rides will be cancelled in the event of a thunderstorm.
Saturday, May 5

, 7:00-9:00 PM
Xenia Station