Girl Scout Badge Day - Juniors PM Session
Hey Juniors, join us for an afternoon of outdoor art! Juniors will complete all of the tasks required to earn their Outdoor Art Explorer Badge.
Saturday, May 22

, 12:15-2:00 PM
Caesar Ford Park
Howl at the Moon Hike
Discover the magic of hiking at night when the full moon lights the way and your canine companion is right by your side.
This "howling good time" will be held once a month, on the full moon, and will travel to different parks from May to December.
You do not have to have a dog to enjoy the night walks. All well-behaved dogs must be on leash from start to finish and owners are responsible for cleaning up any messes left behind.
So join us monthly to discover the sights and sounds that reveal themselves when the sun goes down and the full moon arrives.
Wednesday, May 26

, 9:00-10:00 PM
Sara Lee Arnovitz Nature Preserve
Pups on a Mission
Ryder is in distress.
His Paw Patrol pups have disappeared into the Russ Nature Reserve in search of hidden treasure and now they are lost. We now need your help to find Zuma, Rubble, Skye, Everest, Rocky, Chase and Marshall AND the hidden treasure chest. Are you up for the challenge? Ryder will have your treasure map waiting for you when you arrive, along with your own Paw Patrol mask for the mission. Head out to find each of the 7 pups and complete the task at each location. Upon completion, you will receive a clue to the the hidden treasure chest. Do you want to know what is inside? Join us for our "Pups on a Mission" treasure hunt!
This event will run from 6 - 8 pm and is a registration based program due to supplies. Please register each child participating in the hunt. This is a drop in program that will take approximately 45 minutes.
Tuesday, June 1

, 6:00-8:00 PM
Russ Nature Reserve
Open Fire Cooking - Greek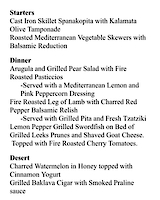 Delicious recipes cooked over an open flame...in a park environment? We have you covered and you will be full by the end of this program.
Join Tim Fouts, from our Ranger Division, and a trained executive chef, for the "how to's" of open fire cooking. Participants will cook their own 3 course meal over an open fire and then enjoy it at your own picnic at Caesar Ford Park.
This program will be offered once a month for four months and will include a different recipe each month. All supplies will be provided. You must register monthly to participate, no walk-in's permitted.
This month's menu: Greek!
This is couples program, please only register 1 person...but bring along a guest. The guest does not need to register.

Wednesday, June 2

, 6:00-9:00 PM
Caesar Ford Park: Caesar Ford Park Shelter
Morning Milers - Xenia Station
Enjoy the region's bike trails with an early morning ride led by a GCP&T Trail Sentinel. Bikers will begin at Xenia Station riding towards Jamestown turning around at the Fayette County Line, riders can expect to bike between 25 and 35 miles. This ride is not for the beginner skill level and does include a short, off-trail portion. Riders must be 18 and over and wear a helmet to participate. Meeting time at each location is 8:30 a.m. with ride departure at 9 a.m. Ride will be cancelled in the event of a thunderstorm.
Saturday, June 5

, 9:00-11:00 AM
Xenia Station
Caesar Ford Summer Fest - Featuring Mark Chesnutt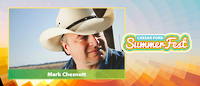 The 3rd annual Caesar Ford SummerFest is scheduled and sure to be a hit. Help us welcome honkey-tonk legend Mark Chesnutt for an evening of country hits. Joining him as a special guest star is the Michelle Robinson Band.
The opening act goes on at 7:00 p.m. followed by Mark Chesnutt at 8:30 p.m. Immediately following will be a fireworks display by Rozzi Famous Fireworks.
Tickets on sale February 12th.

Stage Front - $40
Reserved - $25
Saturday, June 5

, 5:00-10:30 PM
Caesar Ford Park
Bike Camp - Ages 7-9
Come join the Greene County Parks & Trails Trail Sentinels and Park Rangers for a 3 day bike camp that features cycling rules, safety, bike trail etiquette and more! Bike camp will be based at Xenia Station, 150 S. Miami Avenue, Xenia. All skill levels are welcome but participants must know how to ride a bicycle, training wheels not allowed. During the week, cyclists will ride a different paved trail each day with a stop for a brown bag lunch and ice cream too! Participants will learn basic handling skills, street/intersection knowledge and traffic skills. All participants must have a proper fitting helmet daily.
Mon., Tue., Wed. Jun. 7-9

, 9:00 AM-2:00 PM
Xenia Station
The Magic of Nature
Step right up and reach into the Magical Ranger Hat! Whatever you pull from it is what we will do...
...we might explore the creek, plant some flowers, or make friends with a bug! You never know just what will come out of the hat, but you know it will be fun!
Program details subject to change based on COVID restrictions.
Mon., Tue., Wed., Thu., Fri. Jun. 7-11

, 9:30-11:30 AM
James Ranch Park
Family Night Out - Indian Mound Adventure
Bring the whole crew for a night of fun and adventure!
Follow a map and choose your own experience- talk to a pioneer, befriend some wild animals, or explore a Native American earthwork. Everything the park has to offer is at your disposal, what will you choose to explore?
A campfire and free s'mores will be available while supplies last.
Wednesday, June 9

, 6:00-8:00 PM
Indian Mound Reserve
Country Festival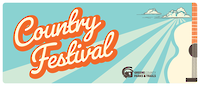 Are you ready for a night of live country music under the night sky?
We have the festival just for you!
Welcoming our new addition to our summer music series, say Hello to the Country Festival at Caesar Ford!
This year we are proud to announce the multifaceted and talented artist, Craig Morgan!
This is a not to miss show also featuring Karen Waldrup, The Cleverlys, Justin Bryan and Mo Pitney!
ALL TICKETS ARE $10.00!!
Yes, you read that right- $10.00 for any seat!
Must be pre-purchased tickets-.No on-site ticket sales available
ON SALE NOW
Saturday, June 12

, 2:00-11:00 PM
Caesar Ford Park