Program Search
Night Ride: Xenia Station to Young's Dairy
Join the GCP&T Trail Sentinels for a moonlight ride along the region's bike trails. GCP&T Trail Sentinels are an elite volunteer group who patrol the trails and coordinate several cycling events. All night riders must be 18 and older, wear a helmet and have lights on their bikes. Rides will be cancelled in the event of a thunderstorm.
Saturday, June 9

, 7:00-9:00 PM
Xenia Station
Learn to Canoe and Kayak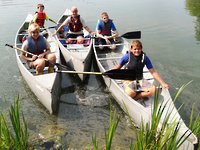 Have you ever wanted to learn to canoe or kayak? Instruction includes hands-on training and in-the-water instruction. This class is being taught by the Greene County Parks & Trails watercraft instructor. Canoes, kayaks, paddles and personal flotation devices provided. Minimum age 12; those 12 – 15 must be accompanied by a paying adult.

Volunteers: Volunteers are needed for this program. Click here to volunteer.
Sunday, June 10

, 9:00 AM-3:00 PM
Shelter
Bike Camp - Ages 10-14
Come join the Greene County Parks & Trails Trail Sentinels and Park Rangers for a week-long bike camp that features cycling rules, safety, bike trail etiquette and more! Bike camp will be based at Xenia Station, 150 S. Miami Avenue, Xenia. All skill levels are welcome but participants must know how to ride a bicycle, training wheels not allowed. During the week, cyclists will ride a different paved trail each day with a stop for a brown bag lunch and ice cream too! Participants will learn basic handling skills, street/intersection knowledge and traffic skills. All participants must have a proper fitting helmet.
Mon., Tue., Wed., Thu., Fri. Jun. 11-15

, 9:00 AM-2:00 PM
Parking lot
Naturalist Camp
Do you want to be a naturalist when you grow up, work with animals, be a zookeeper? Animal lovers will get experience caring for local wildlife. A field trip to Boonshoft Museum's Discovery Zoo will show campers how to prepare special animal diets. Learn more about Ohio animals through hands-on activities, hikes and games.
Mon., Tue., Wed., Thu., Fri. Jun. 11-15

, 9:00 AM-2:30 PM
Main Parking Lot
Adult Fishing Tournament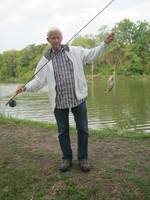 If your favorite thing to do is fish, then bring along your rod and reel and try your luck. Prizes will be awarded to fisherman 18 and over for the most fish caught over 5" and the largest fish over 10". Fishing permits are not needed during tournament hours; all fish are catch and release.

Volunteers: Volunteers are needed for this program. Click here to volunteer.
Saturday, June 16

, 8:00-10:00 AM
Shelter
Morning Milers - Xenia Station
Enjoy the region's bike trails with an early morning ride led by a GCP&T Trail Sentinel. Beginning at Xenia Station, this 25-mile ride will take you towards Jamestown and back to Xenia Station when finished. This ride is for the intermediate skill level and could include a short, off-trail portion. Riders must be 18 and over and wear a helmet to participate. Ride will be cancelled in the event of a thunderstorm.
Saturday, June 16

, 9:00-11:00 AM
Xenia Station
Arts and Crafts Camp
Use recycled and natural materials to construct elaborate animal masks, colorful mosaics and stunning jewelry. Let nature be your muse as you sketch, paint and sculpt one-of-a-kind creations. Campers will receive their own easels and aprons.
Mon., Tue., Wed., Thu., Fri. Jun. 18-22

, 9:00 AM-2:30 PM
Russ Nature Reserve
Canoeing and Creeking
Spending the morning learning how to canoe; entering and exiting, strokes, emergencies and more. In the afternoon, campers will cool off to explore the creek for crawdad and other critters. Campers need to have swimsuits, beach towel and water shoes. Friday includes a downriver canoe float along the Little Miami River.
Mon., Tue., Wed., Thu., Fri. Jun. 18-22

, 9:00 AM-2:30 PM
Spring Lakes Park
Family Outdoor Game Night - Amazing Adaptations
From the super sensitive hands of a raccoon to the incredible strength of an ant colony and the sharp thorns of a locust tree, animals and plants all have tools they use to help them survive. Come test your skills against nature's best! Then enjoy a treat around the campfire. Flashlights and bug spray recommended.
Friday, June 22

, 6:30-8:30 PM
Russ Nature Reserve
Ohio's Vanishing Birds
Twenty percent of the bird species listed as endangered or threatened in Ohio live in fields, meadows or prairies. These bird species populations, across North America, are in the sharpest decline. On this field trip we will search for rare birds like Lark and Henslow Sparrow, Blue Grosbeak, and Bobolink around Greene County and the Columbus area. Please bring binoculars, water bottle and a sack lunch.
Saturday, June 23

, 7:00 AM-3:00 PM
Nature Center