Morning Milers - Beavercreek Community Park
Enjoy the region's bike trails with an early morning ride led by a GCP&T Trail Sentinel. Bikers will begin at either Beavercreek Community Park or Xenia Station. These rides are not for the beginner skill level and may include a short, off-trail portion. Riders must be 18 and over and wear a helmet to participate. Meeting time at each location is 8:30am, with ride departure at 9am. Ride will be cancelled in the event of a thunderstorm.
This ride meets at Beavercreek Community Park.
Saturday, June 4

, 9:00-11:00 AM
Xenia Station
Summer Fest Concert Series - Country
Caesar Ford Park will be alive with music as we bring you the Caesar Ford Summer Fest Concert Series for 2022! Running June through September, each month we will be bringing you chart topping artists for an evening of live music and fun.
JUNE - COUNTRY!
All tickets will be sold through itickets.com, and sales information will be announced at a later date through our social media channels.
All ticket sales are non-refundable.
Saturday, June 4

, 7:00-10:00 PM
Caesar Ford Park
Roughin' It!
**** PROGRAM FILLED, WAITLIST ONLY ****
Cooking over an open fire, tossing a tomahawk, and building your own shelter are all included in this week of outdoor adventure. Each camper will also receive their very own pocket knife. Campers will spend Thursday night with us at a camp out at Caesar Ford. Tents, dinner, snack, and breakfast will be provided during the camp out.

Monday. June 6

, 9:00 am-2:30 pm
Caesar Ford Park


Tuesday. June 7

, 9:00 am-2:30 pm
Caesar Ford Park


Wednesday. June 8

, 9:00 am-2:30 pm
Caesar Ford Park


Thursday. June 9

, 9:00 am-11:59 pm
Caesar Ford Park


Friday. June 10

, 12:00 am-12:00 pm
Caesar Ford Park
Dino-rific!
**** PROGRAM FILLED, WAITLIST ONLY ****
This camp will make you want to stomp like a stegosaurus, fly like a pterosaur, and roar like a T-Rex! Every day will be filled with Dino-sized fun as campers play, learn, and discover all about dinosaurs. Please bring a water bottle and light snack every day.
Mon., Tue., Wed., Thu., Fri. Jun. 6-10

, 9:30-11:30 AM
Narrows Reserve: Narrows Reserve Canoe Launch
Pups on a Mission
What are those famous pups up to now?
Join us for another in-person mission along with Ryder and the pups from Paw Patrol.
Will you be able to help them complete the mission? Children are encouraged to come dressed as their favorite Paw Patrol character.
Tuesday, June 7

, 6:00-8:00 PM
James Ranch Park
Family Night Out - Hide and Seek
The woods and fields are full of fun hiding spots. Can your family be the last to be found in this massive game of hide and seek? We'll also play some hide and seek variants!
Wednesday, June 8

, 6:00-8:00 PM
Russ Nature Reserve
Goat Yoga with Goat Country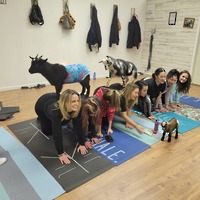 Goat Yoga is not a traditional yoga experience, but it is certainly one that will put you in a good mood.
It is hard not to giggle when a cute baby goat decides that he wants your attention. It's a distraction, but it's a happy distraction that cannot be ignored!
We will be hosting 8 classes in which you can experience the fun of goats! You must register for each class in which you wish to participate.
Yoga mats, proper attire and water are expected. Classes will be cancelled for inclement weather, there are no refunds or household credits for no-show's.
Wednesday, June 8

, 6:30-7:30 PM
Russ Nature Reserve
Fire Tack Trail
Similar to our Light the Night Hikes, this Fire Tack Trail will lead you through the darkness using only a flashlight. Fire tacks will be placed on the trees and they will reflect when light hits them. If you "see the light" keep walking. We will be offering two different trails, easy and hard, for you to enjoy.
The trail length will be approximately 2 (two) miles, and you can do both if you wish.
This is FREE, no registration required. Terrain will be diverse and will include hills, stairs and rocks.
Friday, June 10

, 9:00-11:00 PM
Indian Mound Reserve: Indian Mound Reserve Peterson Park
Night Ride: Xenia Station to Young's Dairy
Join the GCP&T Trail Sentinels for a 24 mile moonlight ride along the region's bike trails. GCP&T Trail Sentinels are an elite volunteer group who patrol the trails and coordinate several cycling events. All night riders must be 18 and older, wear a helmet and have lights on their bikes. Rides will be cancelled in the event of a thunderstorm.
Saturday, June 11

, 7:00-9:00 PM
Xenia Station
Movie Under the Stars - Dog
The fun starts when the sun goes down! Join Greene County Parks & Trails for a FREE family movie in the park under the stars. The park opens at 8:30pm with the movie starting around 9:15pm. Bring along a blanket or some chairs and enjoy. This movie will not be offered as a drive-in due to the park location.
This month we will be watching Dog with Channing Tatum!
With a dog named Lulu by his side, Army Ranger Briggs races down the Pacific Coast to make it to a soldier's funeral on time. Along the way, Briggs and Lulu drive each other completely crazy, break a handful of laws, narrowly evade death, and learn to let down their guards to have a fighting chance of finding happiness.
In the event of inclement weather, the movie will be rescheduled.
Saturday, June 11

, 9:00-11:00 PM
Russ Nature Reserve