DIY Craft - Farmhouse Decor
We are back at it for our very popular DIY craft programs for 2023.
Do you want to know what we are going to be crafting? Well we will keep you in suspense and release the programs each month on Facebook. This month's topic will be released on March 15th at 11 a.m. At that time, registration will open.
Light refreshments will be served. This is an in-person program only, supplies will not be be sent home for those that do not attend.
A variety of supplies will be provided to complete the promoted crafts. You are welcome to bring along your own items if you would like.
Happy Crafting...
Tuesday, April 11

, 6:00-9:00 PM
Caesar Ford Park: Caesar Ford Park Shelter
Caesar Ford Park: Blue Jacket Room at Caesar Ford Park
Bird Walk at the Mound
Birders, or aspiring birders, are encouraged to join GCP&T Naturalist, Jared Merriman, in search of the different bird species that call the Indian Mound Reserve home, or that migrate to this area during the year.
What will we find? Join us to find out...
It is ok if you don't have binoculars to participate, we will have limited sets to loan out.
Saturday, April 15

, 8:00-10:00 AM
Indian Mound Reserve: Indian Mound Reserve Williamson Mound lot
Wild Foraging
***PROGRAM FILLED***
Foraging for wild-grown foods is an exciting way to explore the outdoors and bring nature's bounty to the table.
Learning what is permitted for harvest, what must be left in the wild to protect sensitive and rare species, and what is safe to harvest and prepare is essential information for foragers. Join Naturalist Mel for this "appetizing" program.
Saturday, April 15

, 10:00 AM-12:00 PM
Narrows Reserve: Narrows Reserve Canoe Launch
Night Ride: Xenia Station to Cedarville
Join the GCP&T Trail Sentinels for a 24 mile moonlight ride along the region's bike trails. GCP&T Trail Sentinels are an elite volunteer group who patrol the trails and coordinate several cycling events. All night riders must be 18 and older, wear a helmet and have lights on their bikes. Rides will be cancelled in the event of a thunderstorm.
Saturday, April 15

, 7:00-9:00 PM
Xenia Station
Wiggle Worms - Earth Day Celebration Evening Edition
Geared to those ages 2-5, we are celebrating Earth Day this month! And this special occasion brings Wiggle Worms to you in the evening for this month only.
Registration is required, space is limited.
Our littlest park goers will learn how they can help to "Restore Our Earth" as we take them through a fun earth day hunt collecting supplies needed so they can make a difference in this world. What will you make with all the treasures you find? Sign up now so you can find out.
This is a drop-in program, you do not need to stay for the entire time. The program will take approximately 45 minutes. An adult is required to stay during the program.
Thursday, April 20

, 6:00-7:30 PM
Russ Nature Reserve
Morning Milers - Beavercreek Community Park
Enjoy the region's bike trails with an early morning ride led by a GCP&T Trail Sentinel. Bikers will begin at either Beavercreek Community Park or Xenia Station. These rides are not for the beginner skill level and may include a short, off-trail portion. Riders must be 18 and over and wear a helmet to participate. Meeting time at each location is 8:30am, with ride departure at 9am. Ride will be cancelled in the event of a thunderstorm.
This ride meets at Beavercreek Community Park.
Saturday, April 22

, 9:00-11:00 AM
Off-Site – Beavercreek Community Park
Gardening for Butterflies
Butterflies are beautiful creatures, and they're also excellent pollinators. It's no wonder so many people want to have them around. So, how exactly can we get butterflies into our backyard?
Join GCPT volunteer Kathy Estabrook as she tells you how to create a backyard that will serve our winged friends.
Saturday, April 22

, 1:00-3:00 PM
Greene County Parks & Trails Headquarters
John Finlay Education Center
Homeschool Science Day - Amphibians
The truth is stranger than fiction when it comes to amphibians. Learn which ones eat their own skin, change color, and freeze solid, yet come back to life! Participants will get an up close look at frogs, salamanders and other amphibians, go looking for them in the woods, play amphibian games and more during this station-based day of slimy fun.
Tuesday, April 25

, 10:00 AM-12:00 PM
Spring Lakes Park: Spring Lakes Park Med Shelter
Poetry in the Park
New for 2023 ~ Programming geared towards seniors!
Join staff for an afternoon of Poetry in the Park. These free programs are for seniors interested in poetry. Spend the afternoon simply listening to poetry recitals or sharing a poem or story and celebrating the love of the written or spoken word.
Picnic tables are available, you are welcome to bring a comfortable chair. Snacks encouraged.
Wednesday, April 26

, 1:30-2:45 PM
Fairgrounds Recreation Center: Fairgrounds Recreation Center Large Shelter
Waders and Warblers Wetlands Tour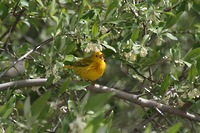 The first wave of migration will bring a variety of warblers, herons, and rails to the wetlands of Greene County. Join us as we search the reeds and rushes for beautiful birds like Sora, Green Heron, and Yellow Warbler. Don't worry, while we'll be looking for waders like herons, we'll stick to the trails where you won't need to wear waders!
This excursion will meet at Phillips Park and then we'll take the county vans to other great birding spots from there.
Saturday, April 29

, 6:30 AM-12:30 PM
Phillips Park